Smart water meters manufactured by ADD Grup are gaining popularity all over the world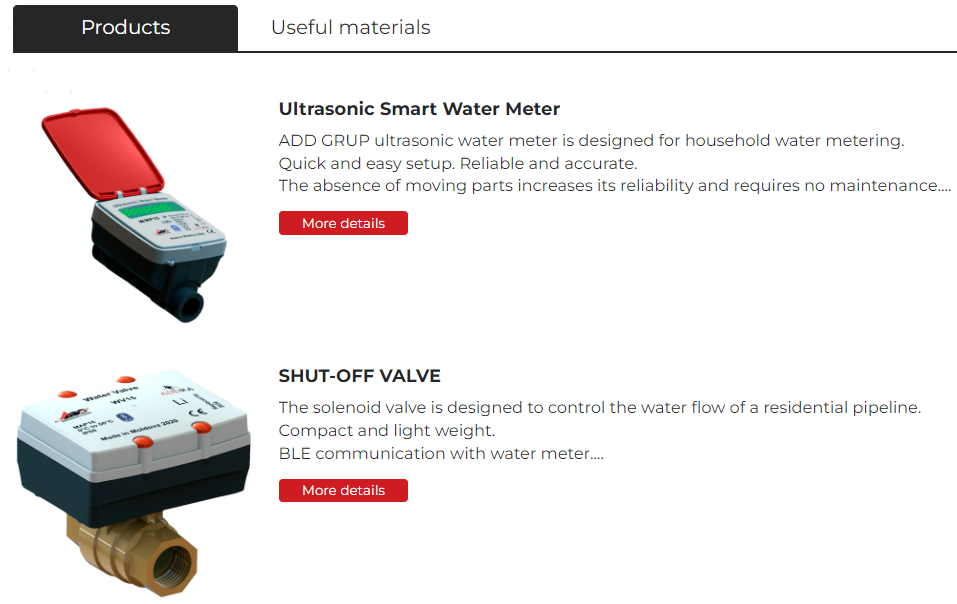 We are glad to inform you that smart water meters manufactured by ADD Grup are gaining popularity all over the world.
Last week we received recommendation letter from our exclusive partner in Spain, Enprotech, who installed the first trial batch of Addra water meters this year for one utility company in Itero de la Vega region in Spain. In particular, our Spanish partner reports that ultrasonic water meters produced by ADD Grup fully comply with quality standards. The order was executed professionally, in line with contract requirements.
Besides the water meter itself ADD GRUP always strongly recommends to use its BLE (Bluetooth Low Energy) operated shut-off valve. The uniqueness of our solution is that thanks to the shut off valve paired with the meter over BLE interface the meters have the ability not only to monitor flow readings, but also control the water supply to consumers.
Obviously, such functionality is very useful for water utilities that get means to switch off or limit water supply remotely for various reasons like non-payment or overconsumption. However consumers do benefit from this as well. Even though some other vendors provide valves as separate devices, in ADDRA solution smart meter from ADD Grup allows you to register a burst or leakage of water in the event of an accident and give the command directly to the valve instantly, which can prevent not only water losses, but also prevent flooding of neighbors.
Additionally to operating water valve BLE interface allows consumers to download detailed consumption profiles from meters to smart-phone app and thus use this information for better consumption management.
Considering the above functionality ADDRA water metering solution can be truly considered a water metering and management system unlike majority of competitive solutions where it is only about AMR or remote meter reading.
Contact us at info@addgrup.com for more information about our products.